Going Wildly Wide: AFS 12-24 mm f/4 G ED IF DX Nikkor Reviewed

---

by Bjørn Rørslett

7. Summary and Conclusions
A little bit reluctantly, I have to admit the 12-24 DX got to me during the periods of test shooting. I'm no longer an avid fan of wide-angle photography (as in my first years of Nature photography). Still I found refeshingly new approaches to many photographic topics with this lens, because of its excellent handling and trustworthy optical performance. The issue of chromatic aberration of course raised its ugly head, but proved to be much less of a problem for field work than I had anticipated from my first test series. And besides, tweaking the digital image in Panorama Tools or similar software would mitigate that issue to more or less academic levels.
The ability of the AFS 12-24 DX to cope with shooting under extreme backlit situations without producing excessive flare and ghosting further endeared the lens for me. I typically consider my AFS 17-35 mm f/2.8 Nikkor a versatile 24 mm lens, and in this context the 12-24DX would neatly qualify as a very useful ultrawide 17 mm. Meaning that you can either widen the framing or tighten it at will by a slight twist of the zoom control.
| | |
| --- | --- |
| Going Wildly Wide | |
| | No, you won't normally get this amount of chromatic "errors" with the 12-24DX, unless you take it to the limit (and beyond) (D1H, AFS 12-24 mm DX lens @12 mm f/8, 1/2 sec,) |
| © Bjørn Rørslett/NN 2003 | |
Expect the 12-24 DX lens to be a widely occurring tool for Nikon DSLR users in the near future. I even succumbed to the temptation and ordered one for myself. So there seems to be a DX lens for my immediate future as well. I just have to bite the bullet and accept the idea that "G" may have a photographic existence, too. Spot on, in fact.
I now have used my personal 12-24 DX lens extensively for a while and find it a very attractive addition to my already far too long lens line-up. It complements my work-horse 17-35 Nikkor in a pleasing way. I purchased initially the 12-24DX with a plan to press it into service for shooting digital infrared (IR) and this kind of work suited this new lens perfectly. However, some camera/lens combinations can present a hot-spot issue (D70, Fuji S2), so you should conduct tests prior to shooting critical IR assignments with this lens.
Going Wildly Wide, The Infrared Way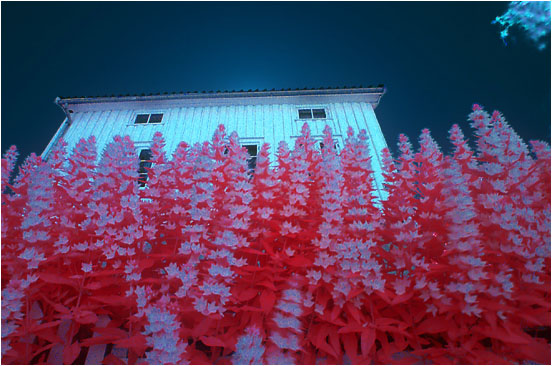 © Bjørn Rørslett/NN 2003