Far Side: Taking Nature Photography Into New Realms

By Bjørn Rørslett
---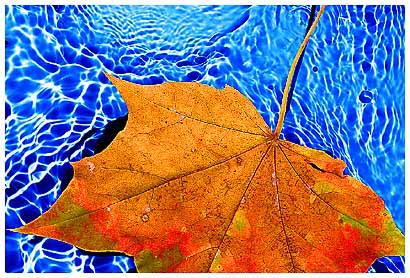 Autumn Leaf on Water. Mixed Afocal Technique

© Bjørn Rørslett/NN 1999
This section of my Web site is devoted to the truly far-out approaches in nature photography. Here, all orphaned approaches such as pinhole photography, afocal methods, multi-band imaging, strip-film and moving-target photography, just to name a few techniques, will be brought together in a mutual home. They convey information about Nature that is easily lost in the traditional branches of Photography. You are encouraged to delve into the inner circle of Nature, the way Nature expresses herself. We can listen to the murmur of the ocean and enjoy the trains of moving patterns across the ocean floor - or try to capture its essence by making the waves themselves the optics to record an image. Every fluctuation, every departure from the steady state of Nature, will yield an imaginary photograph which is yours to capture. By using the well-proven capability of the photographic medium as a means of integrating time and space, Nature's expressions can be turned into wonderful images we may relate to, showing patterns that largely are unperceived by our narrow-minded senses.
These peripheral aspects of Photography appeal a great deal to me and are but a logical extension of my commitment into Ultraviolet (UV) and Infrared (IR) photography. A beginner's collection of "Far Side" images can be enjoyed here. I have outlined the methods used for obtaining these images as well, so just read on.
The newest fashion in this field is something called "multitemporal" images for lack of a better name. However, this designation aptly describes what it's all about, bringing colours into images by multiple exposures - in black-and-white, of course. See the technique described and illustrated here.
| | | |
| --- | --- | --- |
| | Last Update 1 October, 2002 | |