A Quick Look at the Next Generation Pro Digital Camera
By Bjørn Rørslett
---
Rumours about the new creation from Nikon have permeated the Web for some time, so Nikon's announcement of a Press Conference July 22, 2003, didn't exactly come as a surprise. However, the knowing of a fact isn't a substitute for the real thing, thus I forthwith signed up for a Press meeting to be held in a fashionable Oslo hotel. Free lunch if nothing else, and in a glorious ambience to wit.

At the opening stage, you could hear the proverbial needle drop
And so here it is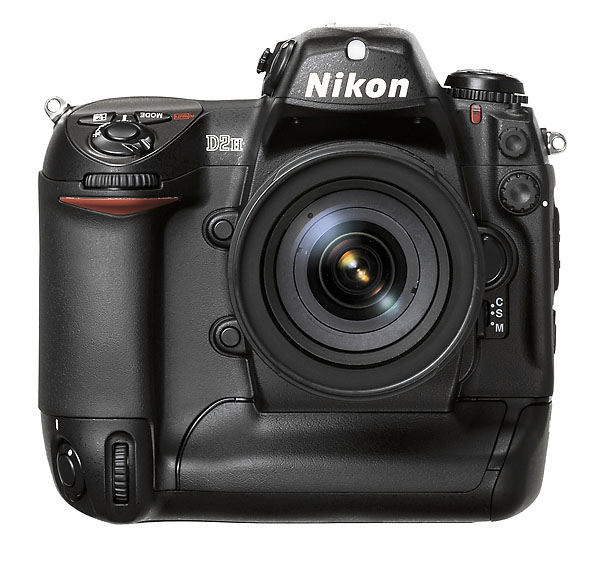 The Nikon D2H presents a sleek outline to the crowd of digital pro shooters nearly tripping over to lay their hands on this new machine.
The "evil eye" on top is the new sensor for automatic white-balancing. It works in conjunction with the colour matrix metering and user settings.
Please bear in mind this cannot be a true review of the camera, just a cursory impression. Nikon has been extremely unhappy with all information leakage pertaining to the D2H, and security has been enforced so that a total embargo exists on all D2H images until production cameras are available in some week's time. This is to ensure that no conclusions are published based upon cameras with beta firmware (current version is 0.46, so there evidently are lots of issues remaining to be addressed). I think this is a prudent move by Nikon, but surely some can get irritated by not having access to the latest breaking news. I have made arrangements for getting a review camera later on of course, so the full in-depth review will follow eventually. All in the due course of events. You, and me, simply have to wait.
Most if not all specifications of D2H are well covered by preview articles published for example on www.dpreview.com or. www.digitalreview.ca, and there is no need to keep repeating stuff so easily available elsewhere. Suffice here to say that D2H emerges as a truly professional calibre camera, with myriads of improvements and additions to the existing designs of the D1-series. Its 4.1 MPix sensor might seem to be a little on the skimpy side, but pixel counting isn't everything and I have had plenty of double-page spreads from my D1 or D1H already, even with their 2.7 MPix CCD.
Compared to its predecessor, D1H, the most striking differences are the smaller and neater shape of the camera, less heft, a new battery now using Li-Ion technology, and the hugely improved viewfinder. Not only is the viewfinder magnification increased significantly, but the view is much brighter, and there are plethora of additional information presented in the finder as well. Whether or not you are thrilled by a 8 fps shooting rate for up to 40 jpgs (25 NEFs) is for each user to decide, but the camera certainly can deliver if you need machine-gunning performance. In use, the camera handled with utmost ease and the location of most controls felt very "correct" and enabled a relaxed, very intuitive operation of the camera and all its features. Thanks to the extremely fast shutter release lag, a mere 37 millisecs, you can indeed capture the peak of the action. Viewfinder blackout is just 80 millisecs so there is no perceivable blackening-out of the image at all, although you do get a slightly flickering impression at 8 fbps (not entirely unexpected).
Data transfer is over a USB2.0 port, conveniently and safely placed on the camera's left hand side. Nikon officials stated that the decision to replace Firewire connectivity with USB had been based upon the much wider frquency of USB-enabled computers and laptops. On an old PC/Mac, the connection falls back to USB1.x to ensure full backwards compatibility.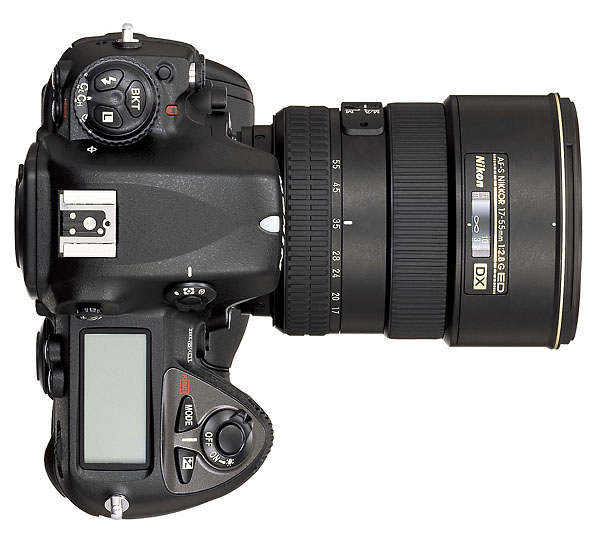 The protruding lower lip of the battery casing makes the D2H footprint nearly identical to that of D1H, but this belies the thinner and better handling camera body.
The new 17-55 mm f/2.8 AFS ED IF G DX ( ... whew ... ) Nikkor, slated to be the pro shooter's new standard lens, is attached to the D2H.
Below is what the viewfinder looks like. Lots of information to be processed by the user for sure, but in practice the layout looks very uncluttered and informative as well. The overview is enhanced not only by increased magnification (0.86X compared to 0.8X of D1x/h), but also a slightly reduced eye-point position so you get a wider view. All digits and numerals in the finder were very easy to read and stray light into the finder well controlled.
You can see the very sensible arrangements of the 11 AF spots which are distributed over the entire frame. Thankfully, you can group, regroup, or even switch off most of the AF areas. The degree of user configurable control of the AF system is amazing and ensures anyone can get the AF system to provide the maximum benefit and focus assistance. Focusing by the way was extremely fast and responsive with the 17-35 AFS I tried, in a class of its own.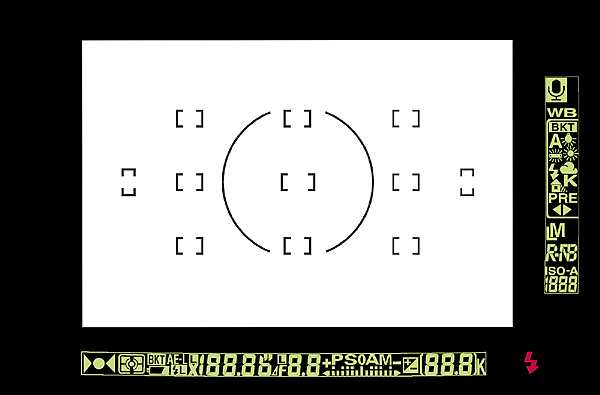 The Nikon D2H viewfinder sports virtually all data you'll ever need to know before tripping the shutter release
Gadgetry is of course taken to the next level with the D2H supporting wireless image transmission, but thankfully this feature is an add-on and not incorporated in the body itself. I cannot see myself using FTP data transfer to my car if I ever venture more than 100 meters away from it, but realise a lot of sport photographers covering big events could fall head over heels in love with this gadget. More of value even to me is the voice annotation feature, surely coming in handy. So, everyone stands pleased. I haven't found out if the D2H supports recording GPS data as do the D1X and H, but I would be surprised if it didn't. (It does not - reversed progress)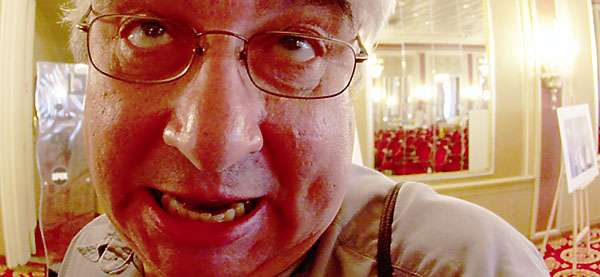 A Pro Sports Photographer Has Already Started Salivating
We're all in for some hard times before shipment of the new toy, D2H, picks up
A surprising new detail is that D2H allows matrix metering with older, non-CPU-equipped lenses. There is no hardware feature different from the D1-series (and F5) to ensure this, just software settings. This shows that Nikon has changed its policy to accept the fact that many Nikon old-timers indeed want to continue using their old lenses, and don't want cameras with intentionally crippled metering abilities. As I understood the lie of the situation, you only need to inform the camera of the maximum f-number and focal length of a MF lens if you wish to include such data in the EXIF headers, so basic matrix metering is directly possible without doing anything at all. (I'll certainly check into this later). It's food for thought that this feature could be on F5, D1, D1X, and D1H, if only Nikon admitted the demands of the users and didn't listen to the its marketing department, which always wants to push for purchases of new AF lenses.
Nothing of the facts I need to know in order to ascertain the strong or weak points of the new LBCAST sensor chip is currently available to me, so I refrain from speculating more on its performance until I can commence true testing of it. Nikon claims they have spent 10 years in its development, so I'd be surprised if its performance did not reflect that effort. Low-noise sensors are always promising. The low-pass filter in front of the chip is said to be thinner than on earlier models, which would imply better rendition of minute details. I'll just have to wait and see what this means for practical shooting. I did notice the anti-IR filter was a much more intense colour than on my D1X and D1H, possibly implying a lower sensitivity to IR. We'll see eventually whether or not I can press the D2H into service for shooting IR or UV images. I certainly hope so and just to be sure, I lost no time in ordering a D2H for my own photography. After all, you should respond positively to such a beautiful camera.
---