Nikon D2X Digital Camera Reviewed

---

by Bjørn Rørslett
7. Ultra-violet (UV) photography with D2X
People familiar with my style of shooting 'invisible' light are well aware of the fact that I'm partial to UV. So, one of the the first issues addressed with D2X was shooting UV with my trustworthy UV-Nikkor 105 mm lens.
The camera designers don't like UV more than they do IR coming into their digital contraptions. However, unlike IR, the UV rays are quite efficiently filtered out by pure optical means long before they can reach the imaging chip inside. The optical glass in the lens, and in particular the multi-coating layers, prevent much of the impinging UV to pass through. Whether or not there is additional UV screening taking place in the AA filter pack in front of the CMOS chip is unknown. Further testing may provide more information on this.
D2X deviates strongly from all other Nikon DSLRs in its response to UV. Typically Nikon cameras record UV mostly in the red channel (D1, D1X, D2H), but there occasionally is useful response in the other two channels as well (D1H, D70). However, with its CMOS imager inside, D2X agrees closely with newer Canon DSLRs in its strongly attenuated UV response which additionally occurs mainly in the blue channel. Its UV response tested with a filter pack of B+W 403 and BG-38 on the UV-Nikkor 105 mm f/4.5 lens is typically 13-14 stops under normal daylight. This is an additional 5 stops lower than the UV response of D70. Thus, I would not consider D2X a candidate camera for shooting UV flower images because of its low UV response. However, since D2X has excellent noise reduction circuitry, you can press the camera into service for shooting UV landscapes. The images will lack the potential (false)colour richness achieved with D1 or D70 cameras for this kind of work.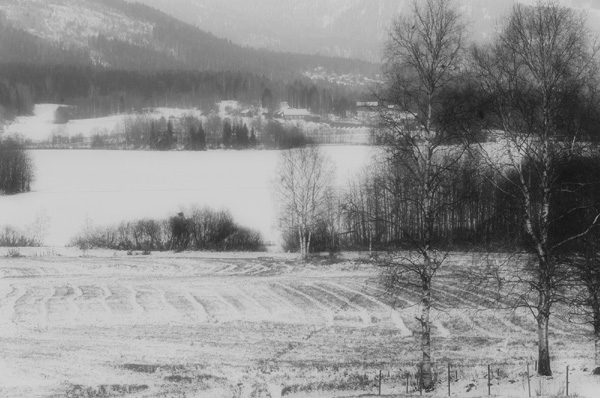 Ultra-Violet Landscape
Nikon D2X, UV-Nikkor 105 mm f/4.5 lens, B+W 403 and BG-38 filters on lens.
20 sec exposure at f/15 @ 800 "ISO"
(The white stuff covering the ground is snow)
I guess I just have to accept this limitation of the Nikon D2X. There is always the possibility of shooting b/w landscapes with that old-fashioned, "ortho" retro-look. And given the nature of the beast, those UV images will have extraordinary clarity and detail as well.
For people less engrossed in ultra-violet than me, the low UV response does mean landscape motifs with lots of blue skies are less likely to get washed-out sky colours. One loses, another wins.