Nikon D3 Digital Camera Reviewed

---

by Bjørn Rørslett
8. Ultra-violet (UV) photography with D3
People familiar with my style of shooting 'invisible' light are well aware of the fact that I'm partial to UV. So, one of the the first issues addressed with D3 was shooting UV with my trustworthy UV-Nikkor 105 mm lens.
The camera designers don't like UV any more than they do IR coming into their digital contraptions. However, unlike IR, the UV rays are quite efficiently filtered out by pure optical means long before they can reach the imaging chip inside. The optical glass in the lens, and in particular the multi-coating layers, prevent much of the impinging UV to pass through. Whether or not there is additional UV screening taking place in the AA filter pack in front of the CMOS chip is unknown. Further testing may provide more information on this.
D3 deviates strongly from most other Nikon DSLRs in its response to UV. Typically Nikon cameras record UV mostly in the red channel (D1, D1X, D2H), but there occasionally is useful response in the other two channels as well (D1H, D70). However, with its CMOS imager inside, D3 just as D2X agrees closely with newer Canon DSLRs in its strongly attenuated UV response which additionally occurs mainly in the blue channel. Its UV response tested with my currently recommended standard UV filtration (Baader U 2", affectionately nicknamed "Aphrodite" since it emerges later than the company's previously announced "Venus" filter) on the UV-Nikkor 105 mm f/4.5 lens is more than 20 stops under normal daylight. This is such a feeble response to UV light that even using a dedicated UV flash up close to the subject, hardly any useful UV imagery can result. I tend to use my UV flashes in a multi-exposure setup so as to distribute light better all over the subject, but even this measure wouldn't help much with the D3 in UV. Whilst a rudimentary UV image of course can be captured, the noise levels are intolerable and there is massive loss of detail as well. The comparison below using a Moth Orchid (Phalaenopsis) flower is very revealing.
Ultra-Violet Moth Orchid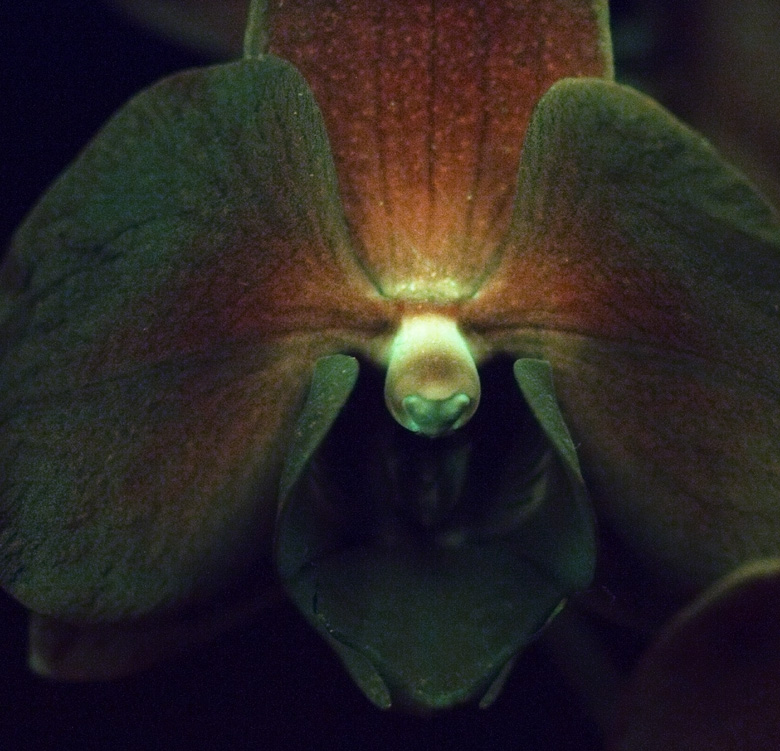 Taken with Nikon D3, Hi-1 (approx. ISO 12800), f/5.6, multi-exposure 4 times with the SB-140 flash at maximum output. Massive post-processing to curtail noise and bring out the few details present.

It is rather embarassing to see how a lowly D70 copes with the same subject (below)
Taken with D70, f/15 @ 800 ISO (single exposure)
Both shots with the UV-Nikkor 105 mm f/4.5 lens, Baader U 2 ("Aphrodite") filter over lens, SB-140 UV/IR flash with the SW5-UV filter head
(The flowers shown here are from the very same specimen in cultivation, but they are not shot at the same time)
I guess I just have to accept this limitation of the Nikon D3. This camera simply doesn't defy the limitations of UV photography. For people less engrossed in ultra-violet than me, the extremely low UV response does mean landscape motifs with lots of blue skies are unlikely to get washed-out sky colours due to UV issues. One loses, another wins.