Geranium sanguineum L.
Geraniaceae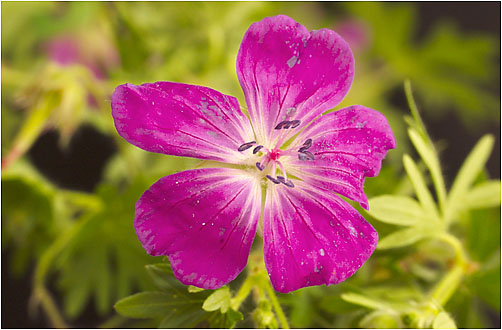 Visible light

(L37 filter)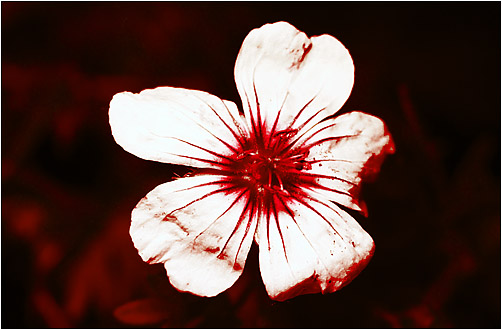 UV light

(Hoya U-360, SB-140)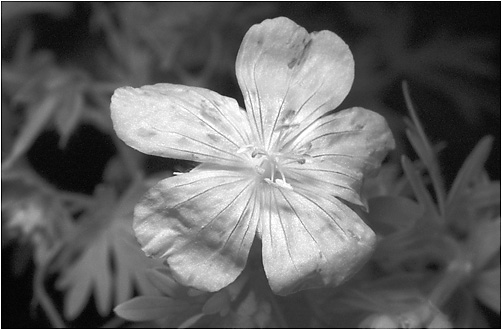 IR light
(Wratten 89B, SB-140 with Wratten 87)
All images

Nikon D1H , UV-Nikkor 105 mm f/4.5, @800 ISO
© Bjørn Rørslett/NN
A large-flowered species with a strong UV signature in the fashion of a typical bull's-eye pattern. In addition, the radiating veins in the petals also absorb UV strongly.

Bloody Crane's Bill has purplish-hued flowers, much more vividly coloured than any of the other large-flowered members of this genus occurring in Norway. Despite its intense colours, G. sanguineum is very similar to the other species in terms of its UV marks, sharing with the others the radiating ray pattern on the petals. Also, as is the case with most reddish or bluish-hued flowers, IR reflectance is high. This makes the colour rendition of the flower hues prone to misinterpretation by film or digital recording.
Last Update 27 June, 2003