Bjørn Rørslett - Professional Nature Photographer:
Home-made Photographic Items
---
Even in these days of mass-production and computerised perfection, there is room and demand for something different. The DIY approach works for nature photography, too. Some of my inventions and contraptions are depicted here. These are fun to make and still more fun to use for photographic purposes.
Curious about the camera bracket?

Click here
There have been a number of recent developments, which are to be described elsewhere. You might try the Review section.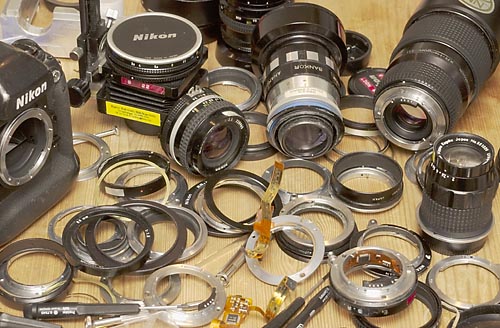 Currently, I'm running in Experimental Mode. Developments are often reported in the Review Section. Stay tuned
---
The magnificent modified 28 mm PC-Nikkor full tilt/shift lens is shown here!
Colourful macro with the Ultra-Micro-Nikkor 28 mm f/1.8 lens
The compressed world of an Anamorphic 135 mm Nikkor lens
Moss Heather by the modified Olympus 38 mm f/2.8 lens
---