By Bjørn Rørslett
---
Rumours about new stuff from Nikon are always floating around the Internet, and especially just prior to events such as the PMA. Being shown the newest goods some time ago, it's always kind of entertaining to read what people predict will appear. Well, below is the answer - for the time being.
Today Nikon releases a slew of new Coolpix models (a total of 10 new cameras for the L-,S-, and P-series), and a new entry-level DSLR, the D60 with 10.2 MP, to replace the current D40x. The D60 is equipped with the powerful EXPEED image processing engine (same as in D3 and D300), so a lot of nifty and clever tricks are going on inside the camera. Among the new features of the D60 I also noticed the built-in dust removal and an ingenious Air Flow System that utilises the camera's mirror movement to dispose of dust in an internal "dust bin". You can also let the camera itself do the conversion of RAW (NEF) files into jpgs wih a a raft of user-selectable options, neat if you are afraid of computers and/or their software.
Together with the new D60, Nikon showed us several new lenses. The first of these, the 16-85 mm f/3.5-5.6 DX G ED VR has been known to the public through leaks on the Internet for some time now, so didn't actually came as the biggest of surprises. Still, a neat lens for all-round use on DX cameras and if the results of the former 18-55 kit lens are a yardstick, I'd expect the quality to be fully acceptable. Build quality seeemd to be higher than hte kit lenses so this lens probably will replace the older 18-70 mm Nikkor as an all-in-one lens for the keen amateur and budding professional. The build is decent and it even has weather protection through a rubber gasket on the rear.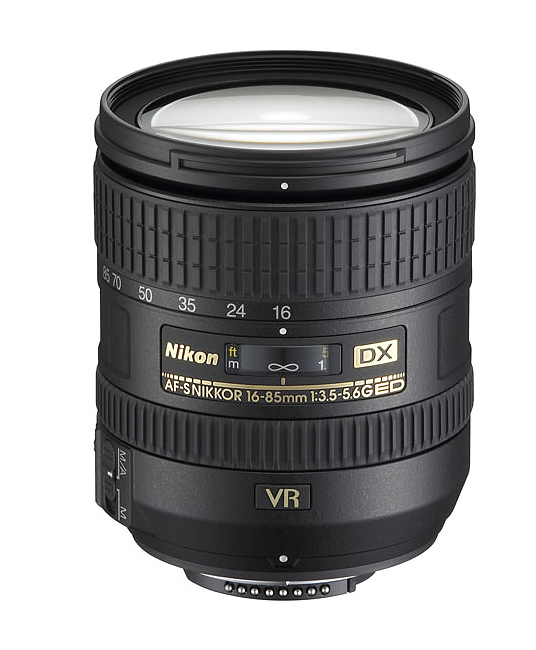 The AFS Nikkor 16-85mm f/3.5-5.6 G ED VR is a DX lens that will appeal to a huge number of DX-format shooters
Next is the newest addition to the Micro-Nikkor line up, the AFS 60 mm f/2.8 Micro-Nikkor ED G. The design is advanced and includes IF (internal focusing), ED glass, and aspherical elements. The lens goes directly to life-size (1:1) reproduction scale and has a fast and responsive AF operation. Not that AF is much of use for close-ups, but since this lens would do double duty for many end users as a portrait lens, fast AF ia an advantage. Also favourable for portrais and close-ups is the improved rendition of the out-of-focus areas, which was one of the weaker points of the former 60 mm Micro-Nikkor. A rubber gasket to enhance its weather sealing is present too. I will run a review on the new 60 mm Micro later when production samples become available to me. I did some shooting with the 60 Micro on the D300 and the results looked fairly impressive indeed. Exemplary contrast and virtually no chromatic aberrations, plus an almost perfect straight-line drawing were evident. Except for the dreaded "G" design, my concern is the 62* mm filter thread the need for which I cannot fathom since the lens doesn't extend while being focused. Maybe they thought their ring flash needed this?
* local press release stated 67mm, the official version I got later from Nikon says 62mm
AFS Micro-Nikkor 60 mm f/2.8 ED G is equally attractive to DX and FX shooters
The real surprise was the following nice piece of optical ingenuity. A wide-angle lens providing full tilt and shift capability, the new 24 mm f/3.5 PC-E Nikkor ED was probably the lens least expected from Nikon. Not that we hadn't wanted such a lens for years, but hopes vanish over time when nothing happens. For the uninitiated, PC stands for "Perspective Control" and since this lens can tilt as well as shift, you have a full range of view-camera like movements to play around with. Coupled with a close near limit of just 21 cm, this makes for some fascinating opportunities to approach your subjects in a new manner. Tilt and shift axes are set 90 degrees to each other, just like the 85 mm PC-Nikkor was delivered in its time; similar to the 85 it seemed possible to modify the lens to give parallel operation of tilt and shift when I probed the innards of this newcomer. Like the Micro-Nikkor, the PC-E 24 mm has improved sealing to make it withstand the harshness of ambient conditions better.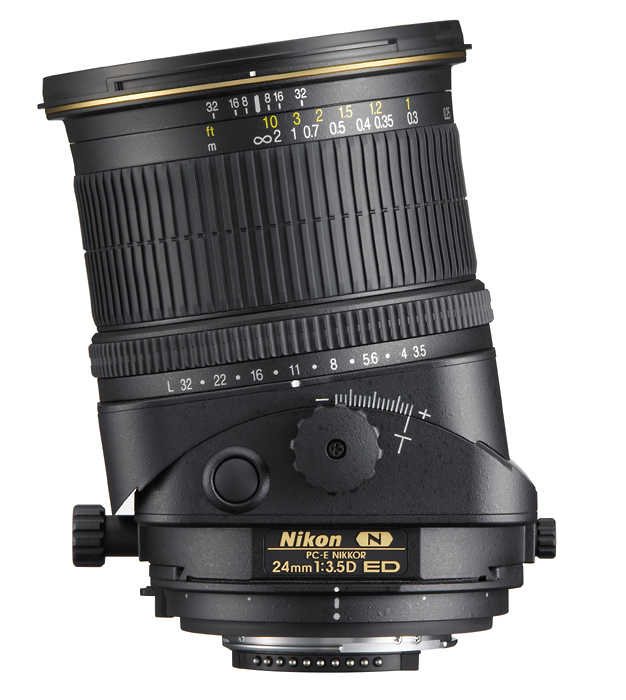 Nikon Nature Photographers, start salivating - the 24 mm f/3.5 PC-E Nikkor is here.
So long awaited that nobody else than Nikon's designers believed it ever would appear. Not just all kind of exotic glass inside plus nano-coating technology, but full tilt and shift capability too.
The 24 mm PC-E comes with several surprises. Firstly, it is to be followed later this year by the 45mm f/2.8 PC-E and 85mm f/2.8 PC-E Nikkors. Still not clear whether the 85mm will be an update to replace the current 85mm f/2.8 PC-Micro-Nikkor, though. Secondly, all these lenses will have a new "E" system for the stopping-down mechanism of the lens. They lack the traditional stop-down lever with the spring-loaded actuation found on virtually all Nikkor lenses. The aperture can be set directly on the lens itself, or dialled in from the camera, but the actual stopping down is under electromagnetic control. The 24mm is not a "G" lens and reports itself in the EXIF as being a "D" lens. Presumably its longer siblings behave in a similar fashion. There is a stop-down button on the 24 mm that acts like the plunger-type control found on the current 85mm f/2.8 PC-Micro-Nikkor but is much less vulnerable. It also allows true stop-down metering to take place. Can the almost 'Canonesque' E-type feature be a sign for yet another generation of Nikkors with backwards compatibility issues? Time will show, but it is clear that unlike older PC-Nikkors you can't use the PC-E on an older camera that can't activate the electromagnetic aperture action. Thus basically, the PC-E is for digital cameras only - food for some thought. All right then, you can use probably it on the F6 too. Even on most cameras you will have to stop down the lens manually by pushing the stop-down button before shooting, or the aperture won't close to the actual taking position. Perhaps all you need is a camera that also support a "G" lens and thus provides power to the "E" actuator. Or could this be so ingenious that you can use the lens on all bodies if you rely on manually setting the aperture and stopping it down via the dedicated button for this purpose? Well, this is my current not-so-clear understanding of the situation of compatibility, but all of this needs further in-depth testing later when I get my 24 lens. At the heart of the issue is the question of whether the "E"-type needs power in order to relocate the aperture position inside.
I tried the 24 mm on both D3 and D300 cameras, and images appear very crisp and sharp. Potential issues such as vignetting and chromatic aberrations seemed to be well-nigh absent, but please bear in mind I had no opportunity of doing a full-scale test of the lens. Anyway from what I could observe, this is a huge step forwards from the older generation of wide PC-Nikkors such as the 28 mm f/3.5 and 35 mm f/2.8 which both showed severe issues on DX-type cameras. I'll put up a full review on this new PC lens when I get my own sample of it. Hopefully, that will be really soon.