---
Many people have asked me the last few months why there are no news, no forthcoming D2H review, or what have you. They don't always understand that all my reviews and lens testing are unpaid work and has to be done on my spare time. If that spare time exists at all.
When I advertised that an in-depth review of D2H was to appear "soon", I didn't realise my insight into the future was limited. Life and its events don't always run in an orderly and predictable manner. Thus, the recent death of my former wife initiated a series of grave repercussions to my family life and my personal economy. Many, but not all, of these issues have been sorted out by now and I'll expect to see the end of these troubles by end of December, 2003. Meanwhile, I have been working hard to secure a future for myself, my daughter and my son. Such aspects clearly have to take precedence before unpaid commitments however alluring they may be.
My D2H arrived in the beginning of November, 2003, and I have shot extensively with the camera since. So, at least, there will be a sound and solid foundation to the review article I'm currently trying to complete. My dead-line now is Dec. 12, 2003.
Until the article is published, enjoy the following infrared shot of South-African Daisy (Gerbera), acquired with my D2H set to 800 ISO equivalency. Taken with the virtually black Wratten 87C filter, this conclusively proves the potential of this camera for IR work. Good news for me is also the ability of D2H to produce nice UV photography. Stay tuned for more infomation, and this will be the last time I publicly promise a planned article before it is actually written. That's a promise.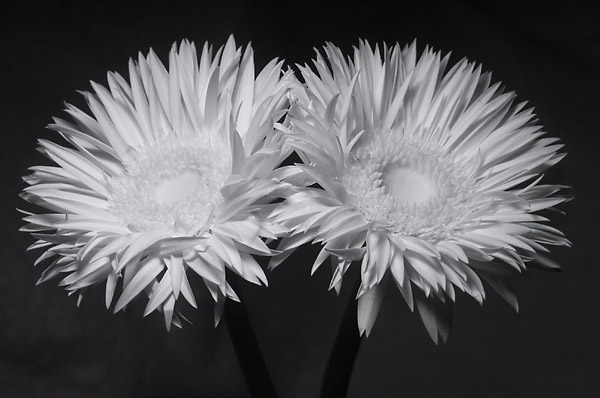 South-African Daisies in Black/White Infrared
Nikon D2H set to 800 'ISO'
UV-Nikkor 105 mm lens, Wratten 87C filter, SB-140 Flash
© Bjørn Rørslett - NN/Nærfoto
PS
Since this statement was first published, I've received a great number of supportive mails and messages from people all over the world. My sincere thanks to all of you for the interest shown
DS
---
| | | |
| --- | --- | --- |
| | Last Update 12 December, 2003 | |