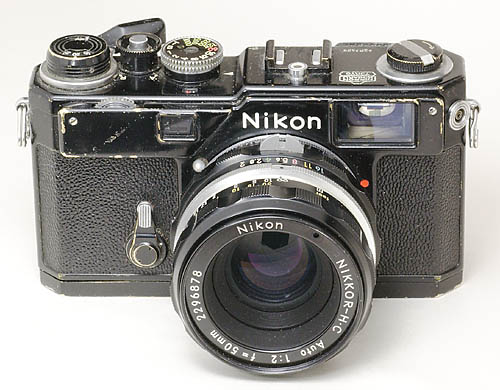 My Nikon S3 with a non-AI Nikkor-HC 50 mm f/2 lens. Attaching this lens, designed for the Nikon F camera, is made possible by using my custom-built F-S adapter. This is my preferred setup when shooting with S3.
I never became entirely comfortable shooting with those early "S"-type Nikkor lenses. Basically, this resulted from the lenses being quite small with difficult to set aperture collars, and often having stiffly-operating focusing mechanism. The optical quality of the rangefinder Nikkors was very good by the standards of their time, and in particular my 105mm f/2.5 Nikkor was - and still is - an excellent performer. However, I wanted lenses which either scarcely could be found for the "S" series, or if existing, carried astronomical prices (if they could be located, that is).
I tried some of the Russian-made Jupiter lenses which fit the Contax camera and can be applied to Nikon rangefinders if you don't mind a slight focusing inaccuracy. However, the workmanship of the Jupiter lenses was so poor I simply could not avail myself of these lenses, although they were quite decent performers optically speaking.
So, I obviously had to find a practical solution and the answer was making a custom-built "F-S" adapter. I made this by splitting a Novoflex Nikon-Leica adapter into two and combining this with an "S" bayonet scavenged from a Russian Jupiter lens. My repair shop then carefully aligned the adapter to have 46.5 mm back focus so "F"-lenses mounted on it would keep their infinity setting. I have used this home-made adapter for decades now without any problem at all. As shown below, it fits the external "S"-bayonet snugly.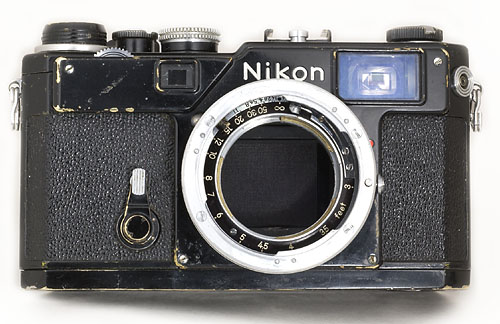 My custom-built F-S adapter which preserves infinity focus and allows a number of "F"-type Nikkors to be mounted on my rangefinder Nikons.
Due to the space constraints imposed by the internal bayonet and focusing mechanism on "S" cameras, only a restricted number of "F"-type Nikkors can be attached. Many Nikkors for the SLR Nikons have protruding pins and collars on their rear and these conflicts with the "S" bayonet. Besides, there is scarcely any practical value of mounting a lens you cannot focus properly, so this excludes using long lenses on the S3 even though they do mount. The following of my "F"-type Nikkors can be pressed into useful service on my S3,
7.5 mm f/5.6 Fisheye, 8 mm f/8 Fisheye, 10 mm f/5.6 OP Fisheye, 16 mm f/3.5 Fisheye (non-AI), 15 mm f/5.6 (non-AI), 20 mm f/3.5 UD (non-AI), 28 mm f/3.5 (non-AI), 28-45 mm f/4.5 Zoom (AI), 28 mm f/2.8 SE, 35 mm f/2 (non-AI), 35 mm f/2.5 SE, 50 mm f/2 (non-AI), 55 mm f/1.2 (non-AI), 55 mm f/3.5 Micro-Nikkor (non-AI versions, but hardly practical if focusing close)
With the addition of "S"-type Nikkors 21 mm f/4, 35 mm f/2.5, and 105 mm f/2.5, I thus have a large array of lenses for my Nikon rangefinders. I tend to put the 105 mm lens on my Nikon SP body because it has the better viewfinder for this lens (and parallax correction as well). The rangefinder window on my S3 outlines the approximate field of view for 35 and 50 mm lenses, which is good enough for me. Working this camera never should be the way one uses an SLR, and there is always be an element of uncertainty as to what the shot captured on the frame. So let it be.