After having used my Nikon S3 for a while, I began planning improvements to its functionality. First out was the wind lever which I felt was too thin, too flimsy, and too grating on my fingers due to its thinness. Noting its similarity to the film advance lever of a Nikon F, I decided to transplant a late-model plastic-tipped lever from a wrecked F to the S3. However, as it later turned out the "F" lever didn't fit perfectly I ended up with grafting the plastic tip only onto the wind lever of my S3. See the illustration below. The plastic tip is secured by small screws drilled through the hollow lever from its underside.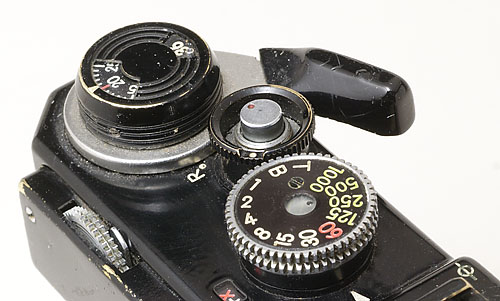 To make my Nikon S3 more comfortable in actual shooting, I've enhanced the film advance lever with a plastic tip (from a late-model Nikon F). A small detail, which provides a significant improvement in camera operation.
The final touch was adding some protective soft material around the rear rangefinder window. This was because the metal rim was highly unkind to my spectacles. A spare neck-strap, from the wrecked Nikon F in fact, was cut to fit around the window frame and firmly put into position by epoxy glue. Not the slickest solution, admittedly, but it saved my day.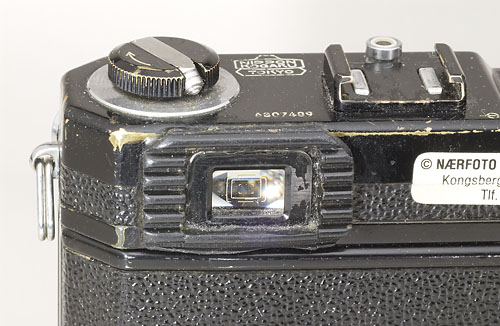 The rangefinder on these old cameras tend to scratch my spectacles, so I've added soft material (cut out from a neck strap) around the rear window. A few drops of well-cured epoxy glue keeps it into position.
While at it, I also added the viewfinder modification to my Nikon SP, but let the advance-lever update be pending on getting more Nikon F parts.
Interestingly enough, the "2000" S3 edition, Nikon's commemorative realse of the venerable S3 classic, has the "F2" type advance lever. Perhaps I'll try to refurbish my own camera after all.